A warm welcome greets the unexpected arrival of two military planes | Local News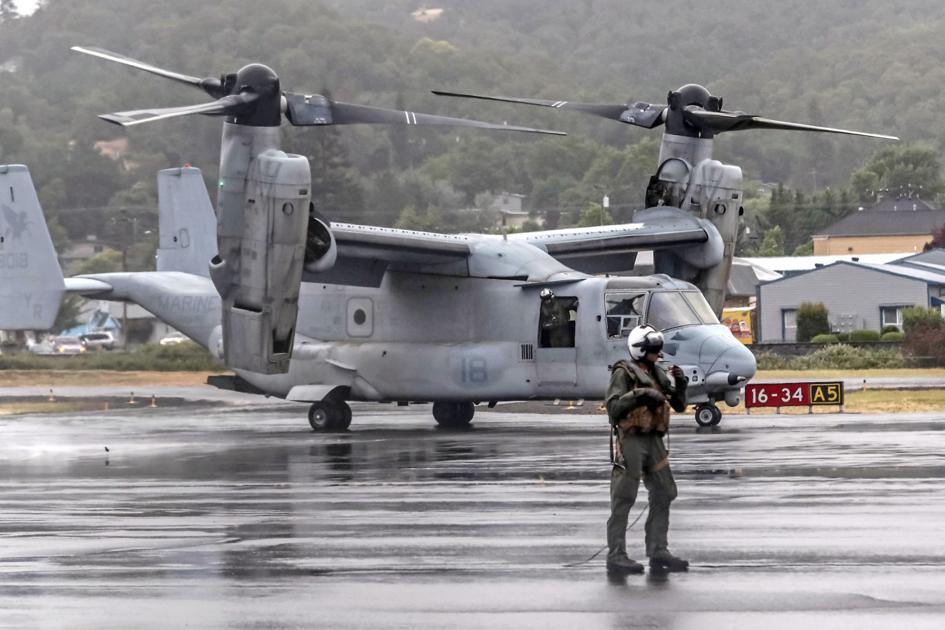 For members of Marine Medium Tiltrotor Squadron 161, complaints about noise may be more typical than praise from people who live near the day-to-day operations of the military aircraft.
The warm welcome that greeted the arrival of two Bell Boeing V-22 Osprey military planes at Roseburg Regional Airport on Friday evening was greatly appreciated, said Lt. Col. John Sax, commanding officer of VMM-161.
"When you're parked in places where they operate, you typically receive noise complaints," Sax said. "When you go somewhere where they're not used to seeing them every day, it's good to know that we always have support."
Bill and Dona Johnson, who live near the airport, can vouch for the noise of the arrival of the two Osprey.
"They rocked the house when they got there," said Bill Johnson. The Johnsons didn't care. In fact, they wasted no time joining dozens of other people who immediately lined the chain link fence within minutes of the arrival of the two military planes.
Two five-person crews touched down at Roseburg as part of a scheduled layover for a three-day training mission that could take crews to at least two other states before returning to Roseburg on Saturday and Sunday.
For more on this story and additional photos, check back later on nrtoday.com or The News-Review on Sundays.
Mike Henneke can be reached at [email protected] or 541-957-4208. Follow him on Twitter @ihenpecked.