Alice's story found its way back to one of America's most haunted houses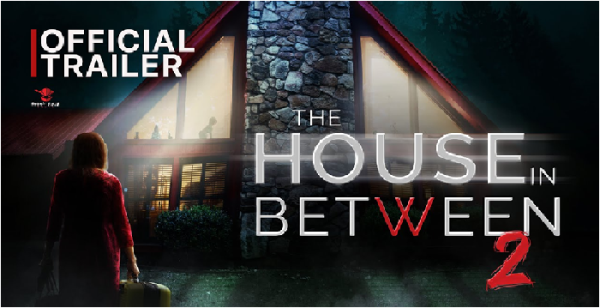 THE
HOUSE BETWEEN: PART 2
Documentary film release from famed "Ghost Hunters" cast member Steve Gonsalves and filmmaker Kendall Whelpton.
Fort Mill, South Carolina – June 24, 2022 – Robot Ninja Media presents The House in Between: Part Two, a paranormal feature documentary out now. Available on all major video-on-demand and streaming platforms, or wherever movies are retailed. The documentary follows Alice Jackson's startling paranormal experience, which sparked an instant reaction causing Alice to flee her dream home. With the help of world-renowned paranormal investigator Steve Gonsalves, who makes it his mission to help Alice face her fears. The house Alice dreamed of has become a living nightmare. Will Steve be the dreamcatcher of Alice's agony, in order to return to her home?
"If we can get Alice Jackson to a point where she feels comfortable staying home overnight again, we've made real progress here." ~Gonsalves
The House in Between: Part Two is a continuation of Alice Jackson's house filmed in an unknown location in Mississippi. Alice searches for a logical explanation for the distinct paranormal activity occupying her space.
The documentary is the product of a direct collaboration between director Steve Gonsalves (star of the hit series ghost hunters) and director Kendall Whelpton (co-owner of Robot Ninja Media) and executive producer/editor Vera Whelpton (co-director The restlessness without sleep). The team set out to be the solution to Alice's dilemma by bringing in experts and taking a three-pronged approach: blending pure science, paranormal techniques and an emotionally charged and poignant human story to the film.
The House in Between: Part One received rave reviews. Directors Steve Gonsalves and Kendall Whelpton found themselves literally scratching the surface. The first part as described by Mr. Whelpton says"We were just peeling the first layers of what's going on in Alice Jackson''s very unique A-Frame home. Since the wrapping of part one, Alice's home has continued to be studied, researched and documented by John Bullard and Brad Cooney, with more evidence and experience being gathered in part two of homefora. Whelpton keeps saying "After the final stages of production on Part 1 of The House in Between, we knew we would be gearing up to do Part 2, as paranormal activity continued to be captured. We were also hoping to bring scientists to the house to provide rational answers to Alice, so she could get her house back."
The House in Between: Part Two is distributed by Gravitas Ventures and the movie is available on all streaming platforms like iTunes, Amazon Video Prime, VUDU, Google Play, etc. The duration of the documentary is 102 minutes.
With much anticipation for the release of The House in Between: Part Two, the synopsis for this feature is as follows:
One of the most thorough paranormal investigations ever documented. Alice Jackson is the victim of an obsession and will not sleep at home. Instead of selling her house, she hands over the keys to paranormal investigators and science for answers.
Movie trailer: https://youtu.be/ZoJtfPNzHFU
For press inquiries, please contact:
[email protected]
Robot Ninja Media
Follow
www.robotninjamedia.com
Where to watch House In Between: Part 2
www.thehouseinbetween.com
Media Contact
Company Name: Robot Ninja Media
Contact person: Kendall Whelpton
E-mail: Send an email
Call: 714-618-1729
Country: United States
Website: www.thehouseinbetween.com