Grab your lucky socks, we're talking fan superstitions and the psychology behind them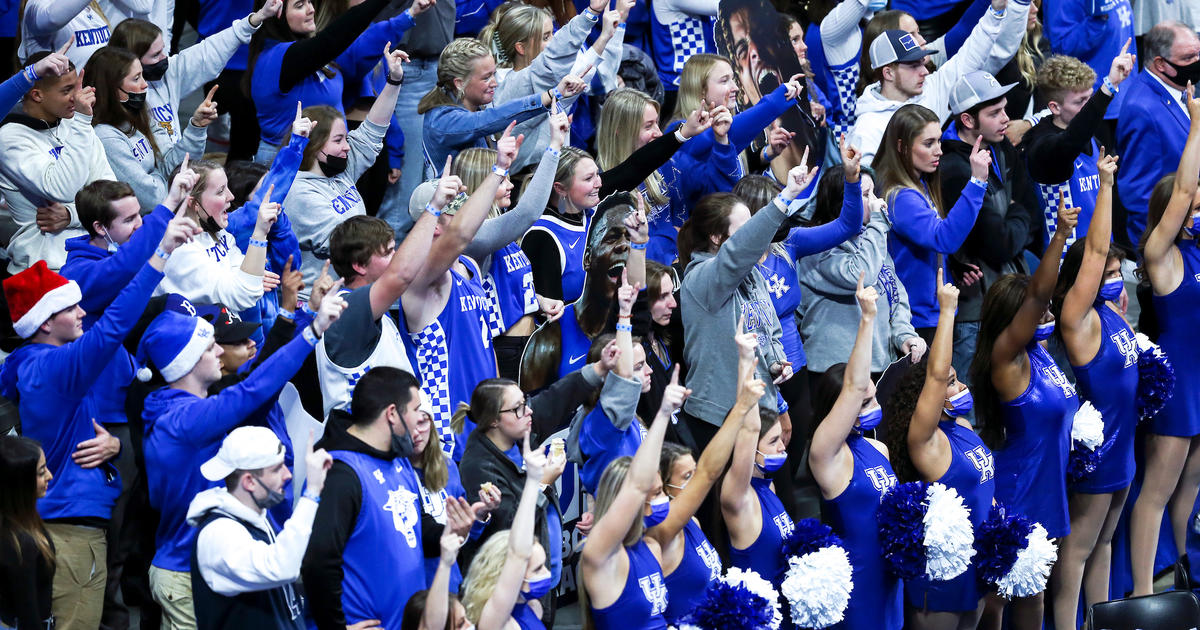 LEXINGTON, Kentucky (March 14, 2022) — From laughable to downright bizarre.
"I have a wildcat skull – 'JOR' – given to me by former faculty member Dr Stemple. When he retired he passed on 'JOR' to me so that I'm taking care of him," said Tammy Jo Edge, who works at the University of Kentucky's College of Health Sciences. "We always call on 'JOR' for extra help during those tough games. I believe 'JOR' was a tough warrior from a Wildcat in his time.
Let's face it, fanbases are a superstitious bunch. That includes us, the Wildcats.
"I have to watch UK March Madness games at the same restaurant – Cinco De Mayo in Lexington," said Christina Lucas, who works at UK Eastern State Hospital. "Every game I watched there, UK won."
From the food on their plate to the clothes they wear, some sports enthusiasts believe that their team's success hinges on things being done in such a particular way that they are often inexplicable to anyone.
"I think wearing the same blue socks every game will help us win," a British student said in a TikTok video highlighting game day superstitions.
"Whatever UK shirt I wear on the first day of the SEC tournament that the UK are playing on, if they win that game I wear the same shirtoutfit on matchdays for the rest of the tournament," said said Christopher Smith, who works in medical specialties.
With the March "madness" underway, UKNow has enlisted Jenny Rice, associate professor in the Department of Writing, Rhetoric and Digital Studies at the University of Kentucky College of Arts and Sciences, to help us explain the seemingly incomprehensible psychology behind superstitions.
Rice is an expert on conspiracy theories. In her book, "Awful Archives: Conspiracy Theory, Rhetoric, and Acts of Evidence," she looks at examples that lie on the fringes of public discourse – pseudoscience, the paranormal, 9/11 conspiracy theories, moon landing, UFO sightings and Obama's birth certificate. Such examples, she argues, highlight further questions about the evidence that force us to reevaluate and move beyond traditional forms of debate and ethics.
UKNow: What is the difference between a ritual and a superstition?
Rice: A superstition can be a ritual performed at very specific times, such as when you see a shooting star and make a wish. But superstitions also have a degree of magic and the supernatural attached to them. Rituals themselves are just habits performed on a regular basis. I brush my teeth every morning, for example, which is a ritual. Superstitions, however, assume that the rituals I perform will have an effect beyond my human abilities.
UKNow: When it comes to superstitions, we often believe they know – on some level – they can't be true. Why do we believe the seemingly unbelievable?
Rice: One explanation involves cognitive dissonance. Our brain finds it hard to believe that two opposite propositions are both true. When we are faced with information that contradicts something we believe in, our brain "solves the problem" by providing a rationalization that eliminates the conflict. For example, while most of us know that smoking is dangerous to our health, we might rationalize it by saying, "I only smoke when I'm out with friends, so it's not like I'm a REAL smoker." Thus, we might believe that superstitions, in general, are not true, but we might also believe that *that* specific ritual is meaningful and important. We tend to view our own actions and beliefs as different from the larger category of things that are wrong, dangerous, unhealthy, etc.
UKNow: We often see fans 'living by' superstitions during games. Why do superstitions lend themselves to fan bases and sporting events?
Rice: Given that superstitions are – to some extent – ​​about hoping for an outcome that doesn't match our own human abilities, it makes sense that they're part of fan culture. When we watch basketball, we can't make the shots ourselves from the stands, but we may feel like we can "help" by performing a ritual that (we hope) will bring about this supernatural effect.
UKNow: Do superstitions give the impression of having control over an outcome? If so, is this a healthy or unhealthy behavior?
Rice: A strong superstitious belief concerns a feeling of control over the outcome of a situation. While I wouldn't necessarily call it unhealthy behavior, there are times when we mistakenly believe that our situations are a matter of pure luck – both good and bad. If I run a marathon and end up with a terrible performance, I might attribute it to "bad luck." Maybe I forgot to wear my lucky socks, or I wore unlucky colors. But the truth probably has more to do with my preparation and training (or lack thereof). When we start to think more in terms of luck than personal responsibility, superstitions can hold us back.
UKNow: Even when our superstitions fail us, why do we still act on them?
Rice: We might not even necessarily be able to see that our superstitions have failed. If I believe my Wildcats lucky shirt still means a UK win, then I might explain a loss by some other reasoning. Maybe I wore the jersey, but I blame the fact that I washed it between games as the reason.
UKNow: It is said that the more fans identify with their team, the more they cling to superstitions. Is it true? And why is that?
Rice: Being a fan is nice because it's a form of participation. We talk about "our team" in a way that makes us feel part of the team itself. The rituals and superstitions around the games are yet another way of feeling like we are "physically" participating as part of the team.
On another note, fan superstition rituals are also a form of sociality. They link us to "our" team and even to other fans. It's one of the reasons we keep saying "Blessings" after someone sneezes, even though we no longer believe (as people once did) that blessing someone protects someone. soul of the sneezer. Magical belief is long gone, but we perpetuate it for the bonding effects it has even with complete strangers.