Senator wants DoD climate change goals locked into law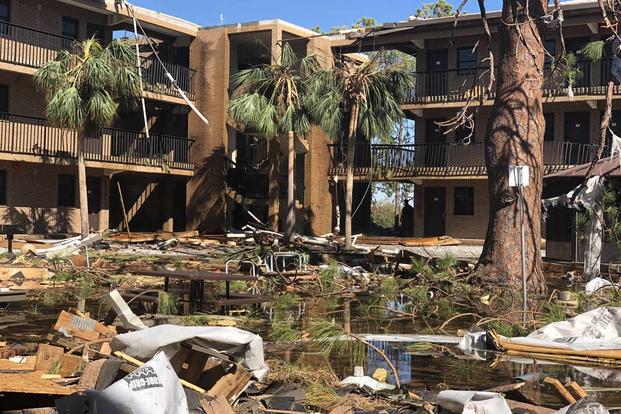 As the military services roll out their climate change plans, a key senator is pushing for the goals to be met by enshrining them in law.
Sen. Tammy Duckworth, D-Ill., a member of the Senate Armed Services Committee and Army National Guard veteran, introduces a bill Thursday that would set renewable energy goals for the Department of Defense which correspond to the objectives that the military services announced recently months.
It's important to codify the goals, Duckworth said, "so it doesn't depend on who the Secretary of Defense happens to be."
Read more : Cuts to cost-of-living allowances 'make it hard to just exist', say military families in Germany
"We don't want a project to start and then decline," Duckworth added in a phone interview with Military.com. "One of the things that needs to happen for the move away from fossil fuels to be effective is a long-term investment."
Under the Biden administration, which has made tackling climate change a top priority, the military has set energy targets, including the Navy which released a climate plan on Wednesday that aims to cut emissions by 65% ​​by by 2030 and to achieve net-zero emissions by 2050. Net-zero means that all greenhouse gases produced are offset by removing carbon from the atmosphere.
The military also released a plan in February to halve emissions by 2030 and reach net zero by 2050.
The plans follow President Joe Biden signing, just days into his first term, an executive order requiring federal agencies to develop climate change plans. In accordance with the order, the Pentagon released its "Climate Adaptation Plan" in October, which called for making military bases energy self-sufficient and for the military to improve their "climate awareness."
Duckworth's bill would be broadly consistent with the services' stated goals. Under the bill, the Department of Defense should aim to use at least 40% carbon pollution-free electricity by 2024 and 100% by 2030.
The bill would also codify targets to reduce emissions from Department of Defense operations by at least 65% by 2030 and achieve net zero emissions by 2050; 20% facility purchases by 2024 and net zero emissions by 2050; and buildings over facilities of 50% by 2032 and net zero by 2045.
It would also set a goal of purchasing only zero-emission non-tactical vehicles by 2035, including zero-emission light-duty vehicles by 2027, and working towards purchasing zero-emission tactical vehicles from here 2045.
The targets in Duckworth's bill would replace one set in a 2006 law for the Department of Defense to use no less than 25% of its energy from renewable sources by 2025. The department must report to Congress more later this year to find out if he is on the right track. to reach this goal.
Vehicle electrification, in particular, is something the Pentagon and the military have focused on. The Navy's plan, for example, encourages increased vehicle fuel efficiency while remaining silent on the biggest polluters of ships and planes.
In November, Undersecretary of Defense Kathleen Hicks also touted plans for non-tactical vehicles to go all-electric and tactical vehicles to be hybrid before going all-electric.
Republicans have accused the Biden administration of focusing on "woke" ideologies and forcing the Green New Deal – a sweeping climate change proposal advocated by some congressional progressives – at the expense of combat capabilities.
But military officials have for years identified climate change as a national security threat because problems caused by a changing climate, such as food shortages, can lead to military conflict and because extreme weather can and has seriously damaged military bases. The Marine Corps, for example, is considering moving its training depot from Parris Island because the location is susceptible to dangerous hurricanes, flooding and heat that have gotten worse and more frequent due to the change. climatic.
Duckworth also pointed to fuel convoys leaving troops vulnerable; thousands of American casualties in Iraq and Afghanistan were due to attacks on fuel convoys.
"It wasn't about going out and kicking down doors trying to find insurgents," said Duckworth, an Iraq War veteran. "I keep thinking about all these food halls we've had for 20 years where if we had just put the money into biofuels we could have powered all these thousands of generators in all these bases with biofuels that we had actually produced from the food scraps from all those catering halls and stopped some of my troops from driving on the roads and not driving HEMTT [Heavy Expanded Mobility Tactical Truck] tanker trucks with 5,000 gallons of fuel behind them."
In addition to setting renewable energy and emissions targets, Duckworth said the bill would give the Pentagon the "flexibility and authority" to meet them.
The bill would make it easier for the Pentagon to hire people "who have the skills and experience the secretary deems necessary to support sustainability efforts," according to the bill's text.
It would also require the Director of Costing and Programs to review investments in alternative fuel vehicles; allowing new investments and the development of sustainable technologies, such as vehicle charging stations; and require an independent study of emissions from certain Department of Defense activities.
Duckworth is working to gather co-sponsors for the bill. A home companion is also being introduced by Rep. Sean Casten, D-Ill., a Duckworth spokesperson said.
While Duckworth said she would be "pleased" if her bill was attached to the annual defense policy bill, which the Senate Armed Services Committee will begin debating next month, she also expressed confidence that it could pass as a standalone bill because "DoD wants it."
— Rebecca Kheel can be reached at [email protected] Follow her on Twitter @reporterkheel.
Related: Troops will receive 'climate literacy' education as part of new Pentagon climate change plan
Show full article
© Copyright 2022 Military.com. All rights reserved. This material may not be published, broadcast, rewritten or redistributed.