Veterans Square monuments honoring servicemen unveiled | Local News | Selma / Kingsbourg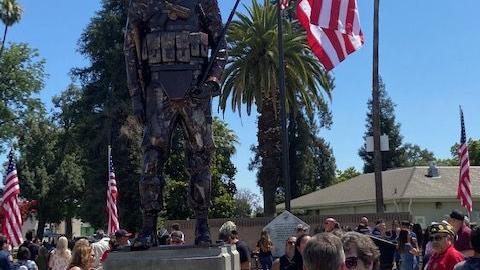 A week before our country celebrated its independence, patriotism took center stage on Saturday in downtown Selma.
Three monuments honoring military personnel were unveiled in Veterans Square as a few hundred citizens watched in the June heat.
The monuments were created by Fresno-based sculptor Brandon Greer under contract with the American Legion Post 12. They were created from recycled steel with a clear powder coating.
A statue represents a sailor embracing a loved one. Another is that of a female Air Force member holding the hand of a child. The largest statue, in the center of the square, shows a fully-dressed soldier holding an American flag.
Eliseo Zuniga, commander of the American Legion Post 12, said the sculptures represent the appreciation of men and women in the military for their "pride and duty to the country."
The Legion Post paid for the sculptures and donated them to the town of Selma, which pledged to maintain the monuments and the Veterans Square.
Assembly member Dr Joaquin Arambula, who spent 10 years as a physician in Selma, predicted that the monuments "will stand the test of time."
Saturday's crowd was packed with former servicemen and their families, as guest speaker Lorenzo Rios noted. The retired lieutenant colonel and former West Point professor said the hoped-for festivities will be a call to action for all Selma residents to improve their families and neighborhoods. He said unity is not something to talk about but something to act on.
"Making America great begins by making Selma great," he told the assembled multitude.
Rios, CEO of the Clovis Memorial District, said the location of the monuments is "an expression of the values ​​of the community" by honoring the legacy of the local military.
Selma Mayor Scott Robertson said Saturday's festivities marked "30 years in achieving Lincoln Park's goal of a veterans memorial."
He described the monuments as "three statues who stand guard over our sacred space and our memory of the brave veterans who kept us free and those who gave their lives so that we could be free."
Robertson said he believes the Veterans Memorial can help attract visitors to Selma while providing a source of pride for veterans and their families to reflect on the lives and sacrifices of military personnel.